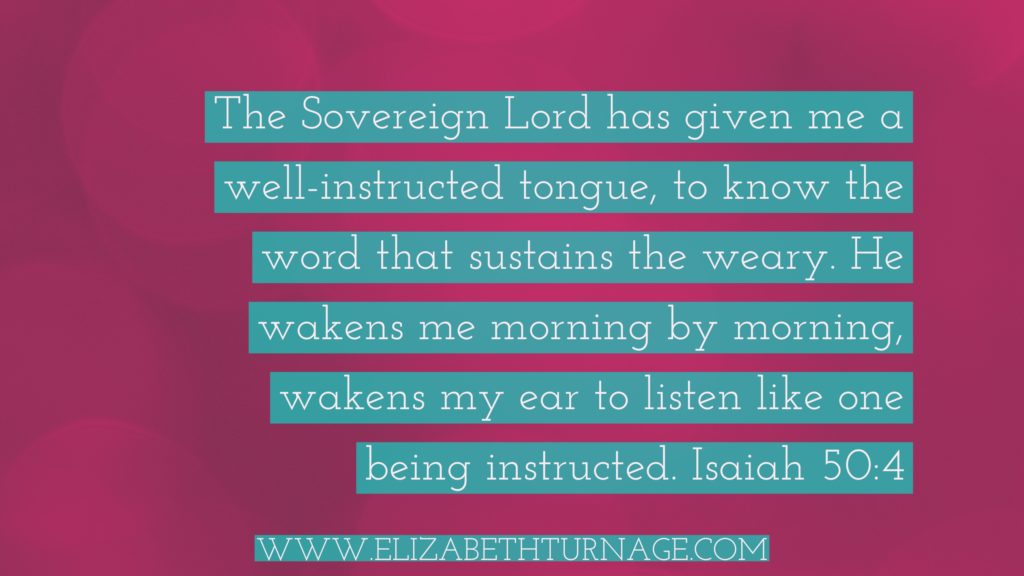 The Lord Awakens the Disciple: Theology & Your Story
The Sovereign Lord Awakens the Disciple
Dear Friends,
I've been away from the blog for a bit, working hard on some retreat material for a lovely urban church in St. Louis. The Lord has called me to read and rest in His Word, and I wanted to share with you some joy of what I've read in Isaiah lately, along with the amazing theologian Alec Motyer's commentary, The Prophecy of Isaiah. 
The Sovereign Lord has given me a well-instructed tongue,
to know the word that sustains the weary.
He wakens me morning by morning,
wakens my ear to listen like one being instructed.
Motyer explains that the awakening impulse comes from the Lord. Remember — we were walking zombies — dead in our transgressions (Eph. 2:1), so from the beginning, new life comes from him, not from within. Motyer also explains that God's goal is to "share his word." The sign of a disciple learning is "the awakened ear, ready to receive the word of God."
The Sovereign Lord Sharpens the Sword of the Disciple
Motyer also teaches that the sharpened sword and polished arrow of Isaiah 49:2 occurred as a result of the disciple's "'morning by morning' appointments with God." A disciple becomes a disciple by responding to the Lord's call. Last weekend, I taught about how once Adam and Eve had sinned, they had a choice — to return to God to find restored shalom or to cover themselves with frail fig leaves in futile attempts to restore shalom. Motyer explains that Isaiah 50:4 refers to the Second Adam, Christ, who…
…when the Lord God came and called (Gen. 3:8), was responsive and unashamed. The tongue filled with the appropriate word for ministry is the product of the ear filled with the word of God….The morning by morning appointment is not a special provision or demand related to the perfect Servant but is the standard curriculum for all disciples." Alec Motyer, The Prophecy of Isaiah
Be encouraged, my friends and fellow disciples. The Lord knows the word that sustains the weary. Listen to his Word and go into this weary world to share it with others.