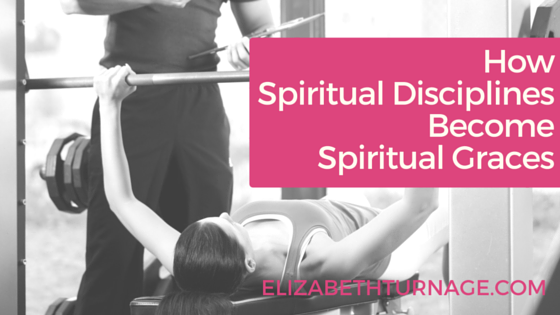 How Spiritual Disciplines Become Spiritual Graces
Re-thinking spiritual disciplines
September is a good time to think about getting back into routines. This month on the blog, I will be sharing encouragement and hope about the ways God helps us grow as Christians. Be sure to sign up if you want to receive all of the posts in your inbox.
As a young Christian back in the 70's, I got the wrong impression about what we often called our "spiritual life." For example, I thought things like having good quiet times (whatever that meant) or memorizing Bible verses would make me a better Christian and more acceptable to God. Thank goodness for the great gospel news that God loves us because he loves us, not because we are "spiritual giants," which I definitely was not.
The good news/bad news of spiritual disciplines
The good news is that I began to understand that my so-called spiritual labors did not save me — thankfully, that work was done by Jesus on the Cross.
The bad news is that somehow a lot of us got the idea that being saved by grace alone meant we didn't need to read our Bibles anymore.  Did you ever think grace meant you didn't need to develop regular practices of immersing yourself in Scripture? Click To Tweet.
At the office, the school, the playing field, and of course, on the internet, our culture bombards us with stories about who we are and what we should be. These stories tell us how to spend our money and our time, how we don't measure up, and as a cure for our unworthiness — how to regain self-esteem.
Immersing ourselves in the STORY OF GRACE
In the midst of these mixed messages, we desperately need to know the one True Story Scripture tells. Knowing this story, remembering and rehearsing it, conversing with it and resting in the One who wrote it is our only hope for living in the freedom for which Christ sets us free (Gal. 5:1).We desperately need to know the Story of Grace Scripture tells. Click To TweetWhen our neighbor mocks us because we go to church on Sunday mornings, we need to know that our lives depend on joining with other believers to remember and celebrate and worship the God who says there is no condemnation in Christ. When our co-workers criticize us for leaving early to coach our child's soccer game, we need to know we can trust God to provide.
Spiritual disciplines – our means of LIVING THE STORY OF GRACE
Spiritual disciplines matter deeply to our calling to worship and enjoy God forever! Next week we will continue this series by looking at practical suggestions for developing and refining practices for immersing ourselves in THE STORY — The Bible!
Your turn – please share in comments:
What things help you to spend time reading Scripture, praying, staying in community, resting, etc.?
What do you think are the most essential spiritual disciplines, and how have they impacted you?
Get 10 Free Lent Reflection Questions
Subscribers get gospel-centered encouragement once a week, PLUS a free gospel-centered resource every month!
Learn more about God's story of grace with Elizabeth's Bible studies