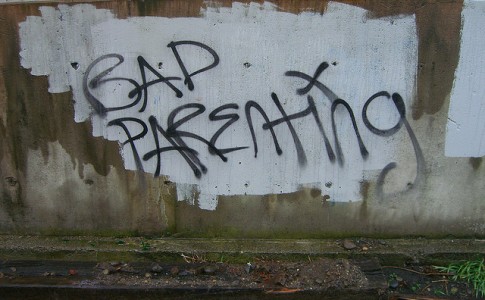 [Original license for photograph by Jason Taellious found at Creative Commons]. If you're a parent, you're probably confused. If you know exactly what to do with that toddler screaming for the mini-Oreos in the cookie aisle, you're probably not a parent:-)! From the time we are pregnant or adopting, plans and programs are thrust upon us — pick me, pick me, promising to produce — what — the designer child we think we want, like the American Girl doll that looks and dresses just like us? Child-centered, parent-centered, Jesus-centered — which do we choose (oh, yes, I know the Sunday school answer:-)?. And even if we know which program is right, how do we execute?
The truth is, no program will "work," whatever that means  — not even the Jesus-centered one. Not because Jesus fails but because we do. Please don't hear what I'm not saying — the collective, common-grace wisdom of these programs can be very helpful — or why would I have hauled around the heavy tome, What to Expect When You're Expecting throughout my pregnancy? But in addition to the tutor of the parenting "law," we desperately need to know the story of grace God is telling in this parenting adventure. We and our children will fail to keep the law every time. Thankfully, God's gracious, compassionate, unchangeable, eternal plans never fail, and in that there is hope.
I've been a mom of four wildly different children for 25 years and a parenting coach off and on along the way. I dare to share some of the things I've learned because I believe they are "means of grace" God uses to accomplish his grand purposes for parents and children.
1. Learn the redemption story Scripture tells. Come on, Elizabeth, isn't that a fancy way of saying "Read your Bible"? Why yes it is. And it isn't. Here is what I know — God promises to transform us through his Word. I don't know how, but he does. Here is something else I know — when we read over and over about God's dysfunctional family, the wayward, worshipful children he has nurtured with the tender strength of a mother and the firm grip of a father, it changes us as parents.
2. Pray. All the time. When the child is throwing the mini-Oreo tantrum, ask him to make you disappear:-). When you don't know which school will help with your daughter's learning disorder, ask him to show you the way and remind you that He really does have a plan. When you roll in the grass with your kids, thank God for making it soft. Ask God for your daughter's shoulder to heal so she can play college volleyball, but when it doesn't, ask him to give you a bigger picture of the redemption story you are writing in her life.
3. Repent. Turn around and say you're sorry to that little girl whose heart you just ripped apart in your own morning temper tantrum over kids who never get ready on time. Drive back to the school with a smiley-face cookie for the boy you left with a harsh word. Call your 20-year-old and tell her you're sorry for trying to write her story your way. Admit that parenting does not preclude sinning against your children, and beg forgiveness.
4. Forgive. They will hurt you. From the first time your 3-year-old tells you he hates you to the day your 18-year-old turns her back on you in anger, they will sin against you. You will see the fist in the face in even your most compliant child if you know what it looks like. Forgive them, not with your arms folded and a begrudging frown, but as your Father forgives you, tenderly, compassionately, mercifully, with open arms. (That does not mean their sin doesn't have consequences — see #1 to discover some of the miserable consequences God's children suffered for their rebellion.)
I've got more, but I think I'll stop here for today. Stay tuned for the next post if you want some of the practical wisdom I've garnered from various plans and programs I've tried:-)! If you want to make sure you don't miss any blogs, sign up here — you'll only receive one email a week, and you'll get all the latest blogs.
While you wait, I'd love to hear from you — what programs have you tried that have helped you? Have you seen any of these four suggestions bear fruit in your life or your children's?