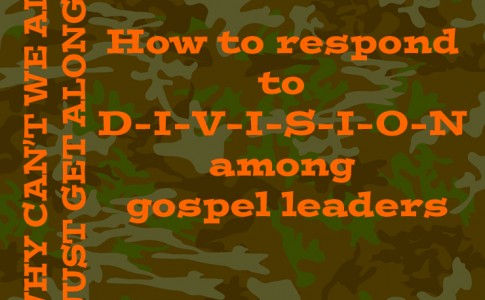 "Why can't we all just get along?" That is my heart's cry when I hear about things like the differences between the Gospel Coalition and Tullian Tchividjian. I've grown in knowledge and understanding of the gospel through the writings of Tim Keller, D.A. Carson, and Tullian Tchividjian. When I hear of the former two asking the latter to move his blog elsewhere, it just makes me very, very sad.
Not to celebrate my failure, but I have to say my heart is tempted toward several unsavory responses:
The ostrich response: I want to bury my head in the sand. I don't like conflict among people I love and respect, and I just want everyone to get along.
The mosh pit response: I want to jump in the melee of all the tweets by favoriting witticisms that defend one party or the other.
The in-the-know response: I want to learn all I can about the conflict so I can share my vast knowledge and profound opinion. After all, there are poor souls who know little about justification or sanctification, antinomianism or nomianism (sounds better than legalism, and nomos means "law"). They really do believe Jesus is their Savior and sincerely want to grow in grace. (Please don't hear what I'm not saying — theology is important — let's just not lose the "little children" Jesus called us to love).
Thanks to the Holy Spirit, who is daily sanctifying me, and some wise gospel-breathing souls who are scenting the mediadic air with godly counsel, I've for the most part rejected or repented of these responses. 
Instead, again — not in my own strength, but by the grace of my Lord Jesus Christ, I've moved in the direction of several more hopeful responses. Perhaps they would be helpful to some of you:
Repent of my idolatry of Christian leaders and writers. Remember that they are redeemed sinners, just as I am. I am prone to place unrealistic expectations on such leaders.
Be a good Berean. Find and review Scripture passages that tell about the law and grace, obedience and good works, justification and sanctification. Find out what the text says, and pray for the Spirit to enlighten your mind with greater understanding.
Read good theologians widely. Yesterday I reopened The Gospel Mystery of Sanctification, written by Walter Marshall in the 1600's and translated into modern English by Dr. Bruce Mcrae (thanks be to God for his decision to make this gospel gem readable!). This book overflows with profound and practical help on living the Christian life.
Pray for all parties concerned. Rather than taking sides or favoriting witty remarks or writing witty remarks, humble yourself and pray. Thank God for these ministers of the gospel. Pray that they will work through their division. Pray for their personal gospel growth — do you ever stop to think how many temptations must face "big-name" Christian leaders? I realized I don't — not often enough.