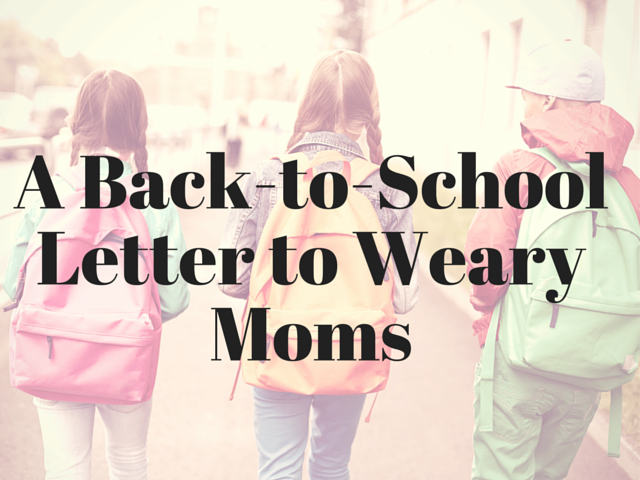 5 Ways for Weary Moms to Rest: Part 1
"Come to me, you who are weary and heavy-laden, and I will give you rest." Matt. 11:28-30
Are you a weary mom, or do you know one personally?
(I wrote this post last year, but it seemed to offer encouragement, so I'm serving it up again :-)!
I don't know about you, but for me, "back-to-school" always signals the time for a fresh start. In my case, the revolving door of college-age-and-beyond children and their friends has come to a standstill, and an ambivalent peace has descended. For many moms with school-aged kids, though, things are just getting ramped up.
Today, I am looking back to those intensely full days with four children in school and thinking about how much more restful I could have been…So today I am writing a letter to my younger mom self and moms who are in the throes now. My hope is to encourage us to live fully in the freedom that Christ has won for us (Galatians 5:1).
Dear rushing, weary mom, you have permission, in Christ, to let go of….
1. trying to make everyone happy.
First of all, it's impossible. And secondly, the gospel truth is that  being a servant of God is not nearly so hard as being a slave to people. (Gal. 1:10).
Let's face it, you'll make turkey sandwiches for lunch, and one of four will want peanut butter. You'll pack apples; two will want bananas. 
Dear rushing, weary mom, you have permission, in Christ, to let go of trying to make everyone… Click To TweetThey will face trials much worse than this when they get to school: playground or locker room rejection, test fails, drug offers. They're going to have hard days, hard years. Don't demand or expect happiness all the time. Stand alongside them as they learn how to "stir away a bad day." Listen. Pray. Wait. 
On the other hand, when they're making everyone else miserable with their misery, feel free to invite them to "rejoice with those who rejoice." (Romans 12:15).
2. worrying and micromanaging. 
Instead, seek counsel from gospel-focused community, pray, and get perspective.
Your first grader, who has been reading The Cat in the Hat for a year, is scoring poorly on those Common Core reading tests. (She's not the only one!). It makes you crazy just thinking about it. You need a good community to pray with you, offer  "kitchen-table" wisdom, and help you remember that God really is bigger (and smarter:-) than the Common Core:-)!!!
Moms, don't worry or micromanage -- seek help from gospel-centered community. Click To Tweet
The corollary to the Common Core worry is that God is also bigger than any of the multitudinous worries you may have about your senior in high school. What college will he go to? Or should he go to technical school? Or no school? And how will you – or he — pay for any of it? 
The only person who may be more worried about this than you, whether he appears utterly disinterested or wildly overwrought, is your child. Either way, let go of micromanaging — you know — placing brochures on his dinner plate, showing him budget spreadsheets, trying to get his student ID so you can start his Common App?
Stop. Breathe. Pray. Rest. Remember what you learned when he was in first grade — God's story of grace truly is larger than this seemingly humongous story. If God could have a plan for the rebellious Israelites that included a future and a hope, he surely has a loving plan for your senior. (Jer.29:11).
(This post has been broken into two parts, because, after all, weary moms don't have time to read more than 600 words in the carpool line, right? Subscribe to the weekly blog if you want to get the FREE Back-to-School Planning Guide and ensure you get Part 2 next week!)
SHARING IS CARING :-)!
If you enjoyed this post, just click on any of the share buttons!