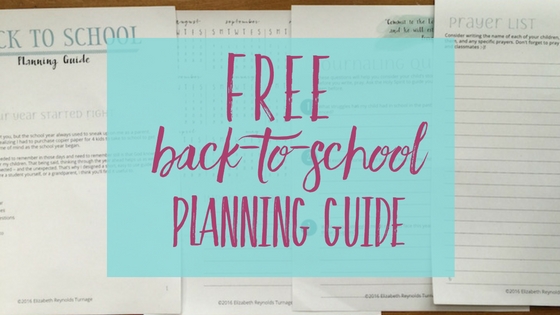 5 Simple Steps for Back-to-School Planning
Are you ready to send kids/go back-to-school?
Don't you love New York in the fall? It makes me want to buy school supplies. I would send you a bouquet of newly-sharpened pencils if I knew your name and address.  Joe Fox, You've Got Mail
Well, it's definitely not fall, and it may or may not be New York, but for some around the country, back-to-school season is upon us.
I'm with Joe Fox – I love school supplies, and the smell of newly sharpened pencils. What I did not love, especially when I had 4 children school aged, was how school seemed to sort of sneak up on me. All of a sudden, I would find out that – in addition to newly sharpened pencils – we now had to provide printer paper…and, well, suddenly back-to-school shopping lost its romance.
Don't let back-to-school season sneak up on you!
Orientation would sneak up on me, or I would have two kids at different schools with orientations at the same time. Stuff like that.
This year, I enter a completely different season — 5 of our brood of 7 (3 are married now 😉 are beginning graduate programs this month. I NO LONGER have to attend orientations, nor do I have to send funds for field trips. But I still want to plan — mainly to PRAY, but also to KNOW HOW TO ENCOURAGE, and PLAN times to GATHER with family.
This process helps me to be a happier, more-sane mom, and I thought it might help you as well.
5 Really Simple Steps for Back-to-School Planning
If you'd like the "Really Simple Back-to-School Planning Guide" to work through this process, be sure to join Living Story subscribers.
PS — I think this process is helpful even if you're not a parent or a student. And grandparents – you can definitely participate :-)!
Check the calendar.
I like to get out a yearly calendar and print out the calendar from the school's website then sit down with my planner and start writing in the important dates.
I learned the hard way with 4 kids that if there will be a college graduation to attend you'll want to book hotel reservations FAR IN ADVANCE unless you want the whole family camping in your son's college apartment (YOU DON'T!).
It's a good idea to take note of holidays and early dismissal days so you don't have any childcare surprises.
Do some journaling.
This is a great time to take a look at various aspects of your child's story. Consider questions like,
"What struggles or weaknesses should we be aware of in advance?"
"What will be exciting and new for my child this year?"
"In what areas would we like to see growth?"
(The FREE Back-to-School Planning Guide has 6 suggested journaling questions. Be sure to get it!)
Take those struggles and those exciting things and turn them into prayers. Consider the following suggested categories:
Praises: "Thank you that we got Mrs. Awesome-Teacher, and that she is a Christian!"
Prayer for specific struggles: Please, may this be the year that Loren shows up to Math class with a pencil, AND his notebook, AND his math book, all at the same time :-)!
Prayer for spiritual growth: Lord, may this super-stern teacher help Tadesha learn how to be kind to people who seem like enemies.
Prayer for friends: Please give my children friends who are kind and faithful and help them be the same.
Prayer for the school: Lord, bless this school with your mercy, grace, and truth. May your name be glorified!
Make a TO-DO/TO-GATHER list.
Gather various school supply lists (Check out this Pinterest board for some ideas), and then get out your calendar and schedule times to get everything ready.
"Be still and know that he is God." Psalm 46: 10.
The year will hold all sorts of stories, but God, the One who plans all things for your children's good and his glory, knows what he is doing. Take heart and take time to stop and smell the freshly sharpened pencils :-)!